Where to find us!
Store Locations
Blue Willow Vintage is located at 3 locations. 
The Essence of Our Merimbula, 4B Merimbula Drive, Merimbula NSW. Open 7 days.
Nancy May from House to Home Creations in Mooroopna is available for pickup or delivery of Fusion Mineral Paint products. Mobile 0439100341
We also have a Creative Studio and Online Shop based in Tura Beach, NSW. Pick up or visit is by appointment only.
Please don't hesitate to contact us for all your product information or workshop enquiries.
Email: bluewillowvintage@gmail.com
Mobile: 0402439258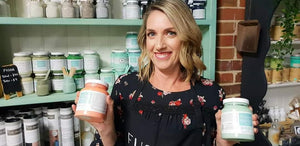 The Blue Willow Story
Hi, I'm Mel, the face behind Blue Willow Vintage. I live with my husband and three children on the beautiful Sapphire Coast NSW, Australia.
I've been upcycling and painting furniture for a few years now. I have a passion for giving an old, unwanted piece of furniture new life. I've always loved creating, it's just a part of my being. 
Painting furniture started as a hobby. Something to do while I was home with the children. We had dark brown dated furniture. I was desperate for new … but couldn't afford the price tag. So I attended a furniture painting workshop...and I was addicted! I painted every piece of furniture in our house, piece by piece, room by room. The sense of achievement was amazing, particularly for my mental health. 
I suffered anxiety and stress as I faced going back to teaching after having 10 years out of the education system. At this point in my life I could remember my strong passion for teaching but suddenly I was terrified about going back into the classroom. Painting was my newfound love and saviour. I found the benefits of painting supported me through this time of uncertainty. It not only relieved my stress and anxiety, it also increased my sense of worth and accomplishment. I honestly believe it helped with my healing.  So I decided to combine the two, teaching and painting. Finally I was seeing some clarity and direction!
Over the next 12 months I tried and tested several different paints. I set up my garage, I invested in a paint line and then began Blue Willow Vintage. I realised I could pass on my passion to so many others and started full day BYO furniture painting retreats, to allow women a lovely day out, a much needed self care day. I catered for lunch and we'd paint in the garden. I now offer a large variety of workshops and masterclasses where we create smaller take home projects in my home studio. These have been immensely popular. I have so much gratitude for my regular customers, who keep coming back, to learn a new technique and for loving what I love!                                                                                          You are more than customers... you are friends.
My absolute favourite  paint is Fusion Mineral Paint, in fact I don't use anything else now. The best thing about Fusion is that it's easy for everyone to use, all levels, even beginners. The Fusion Family has endless support, videos, utube tutorials and inspirational group pages to join. 
I hope you are inspired and empowered to make a start on your painting journey.
Thankyou for visiting Blue Willow Vintage. 
Mel xxx
Thankyou for shopping with us...
Where painting soothes the soul...
Furniture and Home Decor Paint Supplies Australia
Thankyou for shopping with us...
Where painting soothes the soul...
Furniture and Home Decor Paint Supplies Australia
Testimonials
I absolutely enjoyed my day today, it was so nice to have a day without the kids. Mel is so lovely & really knows her stuff. I can't believe how good my table looks now. I can't wait for the next class. The lunch she put on was beautiful too.

Teigan
Fantastic day, learnt new skills and had a fabulous time. Mel is a brilliant teacher.

Joanne
Such a relaxing time, lots of laughs and fun. The best thing is you walk away with a gorgeous product! Thanks Mel.

Rachel
Mel's workshop was so much fun... I highly recommend them. Mel is the hostess with the mostest, she's passionate, creative and makes the day so enjoyable. Painting is infectious and you leave with a finished project. Thanks Mel for a great morning.

Jenny
Mel, was referred to me by a friend. It was my first time painting a piece of furniture with mineral paint. I purchased Fusion Mineral Paint & wax from Mel and after countless questions (and there were lots) I was able to complete my Piece.
Mel, answered all my questions without hesitation and her assistance and knowledge was extremely helpful for me achieve my desired outcome with my buffet. I highly recommend this beautiful lady and Blue Willow Vintage for all your furniture painting projects.

Katie
Mel is wonderful, had so much fun. Just relaxing with a brush... A wonderful excuse for coffee and friends to get together...5 stars!

Jess
Mel, you are so creative! Each class I have done with Blue Willow Vintage has been so much fun and I have loved learning a new craft.

Cheryl