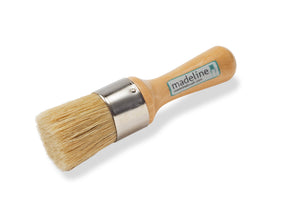 Madeline Medium has  a 1.5″ circumference of lovely, full 100% natural bristle. Madeline Medium can be used for either clear or dark wax.
The handle is comfortable for any hand size. Some customers prefer this size to the large, as it's lighter and easier to hold.
Handmade with care in North America.
About Madeline
Madeline brushes are handmade by a company that has been handcrafting brushes for well over 100 years.  Great care has been put into the design and production of Madeline, and we've made sure to use the best materials possible.
Our bristles are made with the highest quality 100% natural white bristle, and glued with deep set epoxy, and the long, full bristles are firm yet flexible for the smooth application of any furniture wax. The tapered hardwood handle is comfortable to hold for any size hand, big or small.  The beautiful steel ferrule is hand-nailed, and is solvent and rust proof.

Caring for Madeline
No need to clean every time. Give your brush a good wipe with a cloth when finished waxing, to remove excess wax. Then put your wax brush into a ziplock bag or wrap in foil or plastic wrap. If bristles are stiff when you come back, swirl in a bit of wax which will soften them again.
Our top tip for dark wax: dark wax is harder to remove, as it's thicker and stickier. Take a bit of clear wax on a cloth, and use it to wipe the dark wax off your brush. It works like a charm every time!
If deeper cleaning is required, use mineral spirits or paint thinner. Put a small amount on a cloth and wipe your brush.
Please do not wash your brush with soap and water. Excessive washing with soap and water can damage your brush. Plus, it's not great for your plumbing as wax can get stuck in pipes.
Madeline's bristles are glued with deep set epoxy, but don't forget that some bristle loss is normal on all natural bristle brushes. Before you first use your Madeline Wax Brush, comb through a few times with your fingers, pulling out any loose bristles.
Why should you keep your wax brushes separate?
We recommend using Madeline for clear wax, and Madeline Medium or either of the Madeline Mini's for your dark, black or white wax.
Small particles of dark wax can remain in the bristles even after a thorough cleaning. If you eventually wax a piece of furniture where no or limited amounts of dark wax are needed, you may end up with a darker finish than you intended (especially when using white paint).
It's also nice to have a smaller brush to really perfect that beautiful antiquing look. If you plan on using dark wax on larger areas, Madeline Medium or Madeline Mini is your best choice. For more precise areas like fine details and corners, Madeline Mini Round will do the trick.