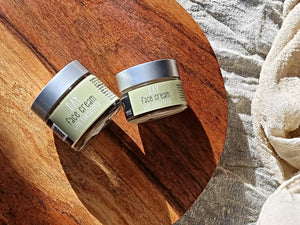 Eco Seed to Skin - By Saarinen Organics
60ml
Light for all skin types.
Our Day cream with sunscreen is our original recipe of our luscious though light Day cream we have been making for 15 years, with an upgrade of the added all natural non nano zinc - which means larger particles of zinc that stay topical on the skin and not adsorbed into the pores
Interestingly so the non nano zinc does change the colour of the cream to a yellow colour though it doesn't stain the skin at all. In fact a lot of skin care companies choose nano Zink because it will keep the cream white - good tip hey
Made with beautiful Certified Organic Aloe Vera gel and our Regenerative farmed herbs to regenerate your skin, with alive ingredients that are truly active with minerals & antioxidants, a perfect addition to your anti ageing skin care regime.
Day time routine
Apply to your clean skin
It serves well as a primer under your makeup
Night time regime
Do take it off at night by

 

Scrubbing in the shower
We need to allow our pores to breath at night.
Why Use Day cream with sunscreen?
I know its only a SPF 15, so its not for an epic day outdoors
Its for intermitted sun exposure like walking from the car to the office, or a day at the markets in and out of the shade.
I wear it in the garden with a nice big hat and high collar.


Active All natural Ingredients, AKA the Hero's of our Clean skin care
We use ionized rain water, caught in a food grade stainless steel tank. We ionize the water set at the Perfect PH for your skin, which is slightly acidic.
I infusion our Regenerative grown Certified organic Herbs of Nettle, Calendula and Chamomile

Blended with Certified Organic oils of Rosehip, Wheat Germ and Sweet Almond oil

Sustainable local

 low heated honey 

and Lavender essential oil