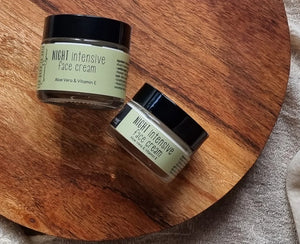 Eco Seed to Skin - By Saarinen Organics
60ml
A repairing Nourishing Night moisturiser. leaving your skin firmer, brighter, better hydrated, and more evenly toned. Defending your face against premature ageing of fine lines and smells pretty alright, too.
Blended with dazzling Vitamin E boasting powerful antioxidants which are just as important as moisturising, they stop free radicals found in UV rays, pollutants, that attack your skin causing ageing and wrinkles, loss of skin elasticity and suppleness - rude!
I also blend our Regenerative farmed Certified organic herby infusion of Nettle, Chamomile and Calendula, together have unique healing properties to reduce inflammation from dry, damaged skin and antioxidants, firming the skin, to regenerate your face. Packed full of extremely alive ingredients that are truly active with minerals & antioxidants.